ThinkProgress FACT FAIL: Leftist propaganda group published blatant lies after Oregon shooting to attack Second Amendment
Another leftist news organization is refusing to issue a retraction for a piece they ran almost immediately after a gunman opened fire at Umpqua Community College in Roseburg, Oregon, on October 1.
Breitbart Texas exposed the liberal leaning political news blog ThinkProgress for printing an incorrect article about the community college's policy on guns.
Breitbart reports:
ThinkProgress published a factually incorrect piece in the immediate aftermath of the mass shooting at an Oregon community college.
Pundits and experts mentioned that the campus was a gun-free zone and ThinkProgress wasted no time in publishing, "UCC Was Not A 'Gun-Free Zone' Because Public Colleges in Oregon Can't Ban Guns."
The apparent pro-Democratic Party front group mistakenly assumed that the community college in question was somehow under the same guidelines as state universities.
The school, Umpqua Community College, was, in fact, a gun-free campus. An archived copy of their student code of conduct shows: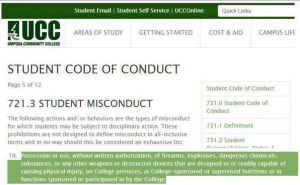 In addition to the written policy of the community college, the university's president, Rita Cavin, stated in a press conference that the university is a gun-free campus and there are "no plans" to change security policy.
Rather than issue a retraction, ThinkProgress added the following update in defense of their storyline:
The conservative site Breitbart and others assert that guns were banned at UCC. This is not true. The student code of conduct bans guns "without written authorization." Under Oregon law, the university could not ban people with a valid concealed carry license from bringing their weapons on campus. (They could ban gun from various buildings and facilities.) Conservative writer Dana Loesch, who initially claimed the campus was a "gun free zone," updated her article to clarify that individuals with concealed carry permits were allowed to bring guns on campus.
ThinkProgress is still wrong.
A loophole in the state law "has made every third-level institution in the state almost entirely gun-free," reports Dana Loesch, whom ThinkProgress linked to in a failed attempt to prove they were correct.
Loesch writes:
Currently, only three states—Idaho, Utah and Colorado—allow guns on campuses regardless of school policy. Oregon's guns-on-campus law is a bit more complicated.
Under state law, "campus carry" is permitted, but each university can set its own policy on whether or not they want to allow firearms. In 2012, after the state legislature failed to pass a bill that would have banned guns on campuses, Oregon's State Board of Education, which oversees many of the state's public universities, unanimously approved a policy that bans guns from its campuses, and other institutions followed suit.
Additionally, the policy states that anyone who does business with any of the state universities—which includes "students, employees, contractors, people buying tickets to university events or people renting university property," according to a 2012 article posted on OregonLive.com—must agree to not bring weapons on campus.
Umpqua Community College not only banned guns but water pistols too
Anyone who violates this policy cannot be criminally prosecuted, but can face punishment by the university.
Students and faculty could face disciplinary action from the university, while contractors risk a breach of contract lawsuit.
The State Board tried to ban guns on campus entirely, but were denied by Oregon's Court of Appeals. The current policy of the State Board of Education states that people with concealed carry permits are allowed to bring their firearms on campuses, but are not into university buildings, which means a person can roam a campus with a concealed weapon, but if they want to go indoors, they must have somewhere (like the trunk of their car) to store their weapon.
Umpqua Community College is not governed by the State Board of Education, but has a similar policy in place.
"Possession, use, or threatened use of firearms (including but not limited to BB guns, air guns, water pistols, and paint guns) ammunition, explosives, dangerous chemicals, or any other objects as weapons on college property, except as expressly authorized by law or college regulations, is prohibited," according to the college's code of conduct.
Additional sources: