Hey guys, try not to have sex with this doll: It's a BIRTHING doll to train doctors, complete with simulated blood!
I confess that I looked at some online pornography once, so I know there's a big market of men who get turned on by pregnant women. Cyesolagnia, it's called. But men, you better keep your hands off SimMom! Yeah, she might look like a sex doll, but she's not.[1] And although she is very definitely nine months pregnant, she is also a virgin, and she intends to remain that way!
The good folks at the Laerdal Medical company did not make SimMom for your perverted pleasure. Rather, they made her to be "an advanced full body birthing simulator with accurate anatomy and functionality to facilitate multi-professional obstetric training of birth management, with both manual and automatic delivery modes."[2]
The basic SimMom package includes: "Birthing Baby with Placenta, Consumable Set, Blood Pressure Cuff, 4 Uteri Modules of Cervix, Amniotic Bag, Post-Partum Hemorrhage Module and Inverted Uterus and a Quick Setup Guide."[2]
The Post-Partum Hemorrhage Module features "pressurised fluid reservoirs" which gush simulated blood and urine out through SimMom's vagina, as depicted in this training video, which would arouse only the most dedicated cyesolagniast.[3]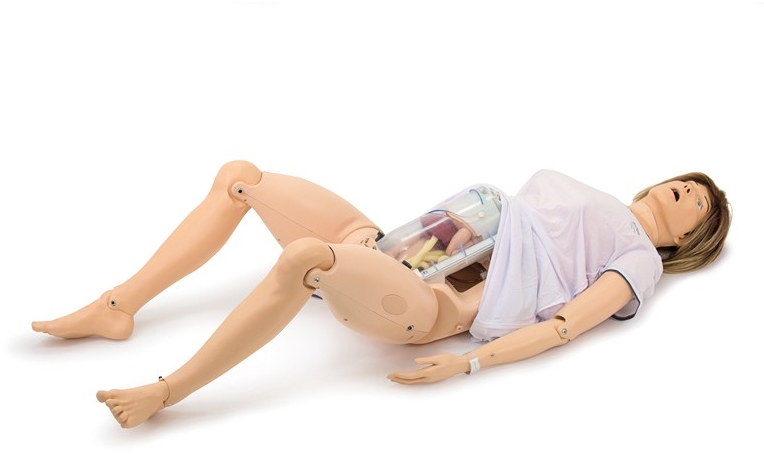 Besides, SimMom isn't cheap. Her fetus alone costs $1,475. The Laerdal website doesn't reveal SimMom's actual price, but a similar birthing doll made by the Gaumard company sells for $3,495. That's almost as much as one of those incredibly lifelike Real Dolls – the kind that Ryan Gosling had in the movie Lars and the Real Girl. If you've seen that film, you can probably recall that Lars' relationship with his sex doll is perfectly chaste. And if Lars can resist the temptation of having sex with an anatomically correct doll, then you can, too. (Of course, Lars is nutty as a fruitcake, but that's beside the point.)
As with modern day crash test dummies, SimMom and Real Dolls are amazingly lifelike compared to their mannequin ancestors. Although some department store mannequins are somewhat realistic, more often than not, they are decapitated and amputated. The first crash test dummy was a wooden creature named Sierra Sam, built in 1949. (Before that, they just crashed animals and human cadavers!)[4] Not that long ago, the only sex dolls available were cheap, inflatable rafts with some hair glued onto them, as immortalized in the 1973 Roxy Music song "In Every Dream Home a Heartache":
I bought you mail order
My plain wrapper, baby
Your skin is like vinyl
The perfect companion
You float in my new pool
Deluxe and delightful
Immortal and life size
My breath is inside you
I blew up your body
But you blew my mind[5]
Unfortunately for cyesolagniasts, SimMom and her competitors are the only realistic pregnant mannequins on the market. But if you must absolutely insist on having a pregnant sex doll, you might want to try the Pregnant Fantasies Love Doll, which one Amazon customer reviewed as follows:
"This is a cheap doll (and you get a decent pregnant DVD in the deal) if you don't expect too much you won't be disappointed. The shape is correct, not a fatty doll, the head is ghastly (I put a pair of panties over it) and a small leak sprung the second time it was blown up (patch repaired it). That said, it is the ONLY pregnant sex doll I know of and for the price, I would buy it again."[6]
Sources used:
[1] DailyMail.co.uk
[2] Laerdal.com
[3] Laerdal.com
[5] AZLyrics.com
[6] Amazon.com
Submit a correction >>