At the start of 2016, we examined the six HIGH TIMES Cannabis Cups from the previous year and the thousands of entries they tallied. The goal? To ascertain exactly which of the entries deserve to be called the strongest strains on planet Earth.
(Article by Nico Escondido)
In years past, we've built our "Strongest Strains on Earth" list simply in order of potency. We've reorganized the article to categorize these potent strains by their place of birth. (Readers enjoyed this format last year, so we'll use it again.) These rankings represent only one data point: THC potency, as determined by lab testing. They do not include the judges' scores or notations, or any other cannabinoids or terpenes (the latter can be read about in our new annual feature, "The Best-Tasting Buds on Earth"). However, this year we've included a short list of the strongest CBD strains from 2015 to complement our THC charts.
So if you're looking for a strain with a knockout punch, one that will get you high when you're feeling low—you're in the right place!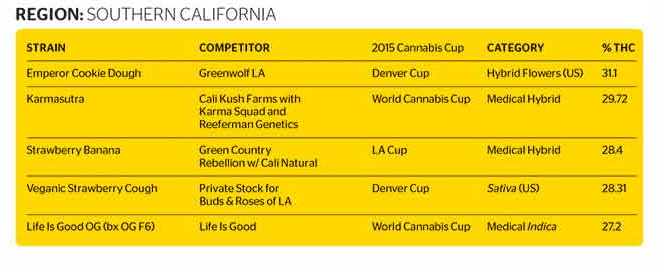 Notes:
The Emperor Cookie Dough, a cross between Emperor OG and Girl Scout Cookies, was entered into the Denver US Cannabis Cup by the Greenwolf LA crew and is one of only two strains ever to cross the 30% threshold for THC. The other strain to do so? Keep on reading….
Karmasutra, a collaboration project, is a hybrid of the Karma OG crossed with Rockstar. Rockstarhas two known versions: The Canadian version is a Bubba Kush x Lemon OG, while the European version is Rockbud x Sensi Star.
Veganic Strawberry Cough has been included in our "Strongest Strains on Earth" compilation (hereafter, The List) for three out of the five years that HIGH TIMES has been running it. In 2012, the VSC maxed out at just over 20% THC. Meanwhile, veganically grown strains (using KyleKushman's Vegamatrix line) have made The List seven times over the course of those five years.

Notes:
It's no surprise that this year's strongest strain—and the new record holder for the highest potency ever recorded at a High Times Cannabis Cup event—is none other than Chem Dog. Reaching 32.13% THC, the Chem has achieved what most of us thought was impossible and leaves us asking one basic question: Just how high can a flower go in terms of potency?
The Brotherhood was another organically grown entry that hit nearly 28% THC. Propagated from seed, her lineage stacks up like this: (Willie's Wonder x Grape Krush) x (Bubba '91 x The White).
The Sour Kush was grown under a purple LED light, and she still went over 26% THC. Does this mean that limited-spectrum LED lamps are healthy for plants—or that the plant was stressed, producing more resin to attract pollen in order to ensure its survival? And if the latter, do you care? The debate continues ….
The Ghost Train Haze appeared in our very first "Strongest Strains on Earth" feature, taking the prize for the most potent strain of 2011 at 25.49% THC. In 2014, she was our THC champion again at nearly 27.46%. Entered last year by the fine grow team at Greenman Cannabis in Denver, the Rare Dankness–bred strain dipped slightly, but we suspect she'll be back again next year looking for the top slot.

Notes:
Chiquita Banana, a relatively new name in the fruity strains, is likely a backcross of the Banana Kush(or Banana OG) out of NorCal, with her potency derived from one of her parents, the epic Ghost OGcut.
Appearing twice on The List for 2015, the Strawberry Banana also was named one of "The Strongest Strains on Earth" in 2014, coming in at 22.51% THC. Additionally, she recently showed up in our "Best-Tasting Buds" feature (March '16) boasting a very prolific terpene profile. A cross betweenBubblegum and Banana Kush (OG), the SB goes nine weeks in flower.
Gorilla Glue #4 has been steadily gaining in popularity over the past few years, combining a unique flavor with a very potent high. A super-cross of Sour Dubb x (Chem's Sister x Chocolate Diesel), she's a sativa-dominant hybrid that's been making her way across the country, and has reportedly even been seen on a menu or two in Dutch coffeeshops.

Notes:
The Sunny Days doubtless gets her potency from her father, the Ghost Train Haze #1. This particularsativa-dominant hybrid is a GTH backcross whose lineage is represented as (Grape Stomper x GTH#1) bx GTH #1. This entry, hitting nearly 27% THC, was organically grown.
Death Star has been around for a while, but the Sour Diesel x Sensi Star cross has never quite lived up to initial expectations. This pheno, however, achieved new heights when grown in all-natural soil and organic nutrients from the Detroit Nutrient Company. See a trend?
Sunshine #4, an OG x Cherry Pie x Pink Panties cross, first made headlines in our "Best-Tasting Buds" feature this past March, boasting 2.2% total terps, with myrcene heading the roster. Combine that with nearly 26% THC, and you get a potent flower that took home first place in the Best Hybrid category.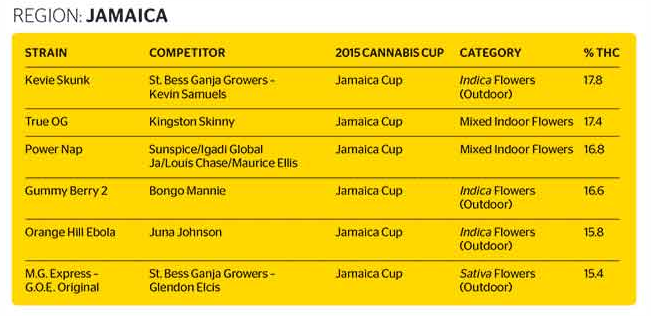 Notes:
The Jamaican Cannabis Cup featured entries grown only in Jamaica, with the categories divided into Indoor, Outdoor Sativa and Outdoor Indica for flowers. The average indoor flower potency was 15.5% THC. Out of 53 total flower entries, the average outdoor potency was 10.1% THC for indicasand 10.4% THC for sativas. These averages represent the values for activated (decarboxylated) THC.
Each province or parish of Jamaica is represented by a primary ganja growers' association, and many of the entries were supplied via these organizations. Rastafarians comprise a majority of these growers and have been cultivating some of these strains for many decades. They were central in organizing this Cup competition.
St. Bess Ganja Growers, which provided two of the most potent entries in the Jamaica Cup, as well as the St. Ann's Botanical & Agro Processing Cooperative and the Orange Hill growers (of Westmoreland), were among the top associations of island cultivators.
The True OG was grown from seeds purchased from Elemental Seeds.
Eight of the 26 entries in the Best Indica category, or 31%, tested for high CBD levels (over 3%). The highest was 9.2% CBD, in a strain called Black Willy from the Accompong Maroons, Jamaica's oldest indigenous people.
Strongest CBD Strains
As THC potency rises, so too come increasing CBD levels. We never thought we'd see the day whenCBD actually catches up to THC, but that sentiment is now being challenged as we witness CBDstrains crossing the 20th percentile for the first time ever.
In comparison with the results in the THC category, the CBD strains were tested by three different labs across four separate competitions, with values coming back between 15% and 21%. The top CBDstrain, a Cannatonic phenotype that's been circulating in the northern US for the past several years, also hit 19% CBD at the Michigan Cup in 2011.

Mile High Has Record High
This feature has been running annually in our hallowed pages for five years now. The previous high mark for potency was 28.35% THC for the Bruce Banner #3, set in 2013 at the Denver Cannabis Cup. Since that time, we've discussed at length just how high a cannabis flower could go, physiologically speaking, in terms of THC. We've also discussed the various lab-testing methodologies used by labs in different states. We asked the experts if we would see an end to these skyrocketing values, or would cannabis simply continue to progress until we had buds testing at over 50% THC? The truth is, there has to be a ceiling at some point: After all, a flower can't be 100% percent THC.
In 2015, we reached a new milestone in the Mile High City, crossing the 30% threshold for the first time ever at a High Times Cannabis Cup competition. Sure, we've heard rumors about strains climbing as high as 35%—we've even examined reports submitted by growers and prepared by no-name labs. But these reports won't be considered valid until we can certify the lab and its testing protocols, as we do for each Cup competition we hold.
In Denver, we had not one but two flower entries break the barrier and cross into a new realm of cannabis potency. And while both were entered in the same Cup, they were grown in different states, by different growers, using different genetics and techniques. Still, it's important to remember that while we validated the testing methods used, we had only one lab running samples at this Cup, as opposed to our normal protocol of two separate labs running the samples independently.
Greenwolf, a celebrated LA dispensary, brought to the Denver Cup their Emperor Cookie Dough, which tipped the scales at 31.1% THC—an impressive number, to say the least. And then we have our good friends at Next Harvest, a perennial contender from Denver, whose Chem Dog cut surpassed the 32% mark and set the bar with a new all-time high of 32.13% THC.
This comes as no surprise to anyone who's ever smoked a pure Chem Dog, which just happened to originate from seeds found in a pound of cannabis grown in Denver in the 1990s (and known simply as "the Dog" back then). Today, we no longer question the results, but instead celebrate the unknown. And one day, sooner or later, our questions will finally be answered as to just how high this precious plant can take us.
We'd like to pause here and thank our partner labs for providing such excellent and thorough lab results for our Cannabis Cup competitions in 2015:
LA Cannabis Cup: Lab-testing results by CSA Labs, Los Angeles, using gas chromatography–mass spectrometry (GC-MS).
Denver Cannabis Cup: Lab-testing results by Charas Scientific, Denver, using high-pressure liquid chromatography (HPLC).
San Francisco Cannabis Cup: Lab-testing results by Steep Hill Labs, Berkeley, using HPLC.
Michigan Cannabis Cup: Lab-testing results by Iron Labs, Walled Lake, using GC-MS, and by PSI Labs, Ann Arbor, using HPLC.
The World Cannabis Cup: Lab-testing results by CSA Labs, Los Angeles, using HPLC.
Jamaica Cannabis Cup: Lab-testing results by Steep Hill Labs, Berkeley, using a QuantaCann-2 (IR-referenced technology), and in conjunction with the University of Technology, Kingston, Jamaica.
Read more at: Hightimes.com