Farms and hospitals coming together in Pennsylvania to provide patients with fresh, disease-fighting foods
If you or a family member has been in a hospital as a patient, or visitor, you've experienced the cafeteria. The menu is frightening – GMO fed beef burgers with a slab of nitrate bacon, canola oil drenched French fries, sugar laden ice cream and chemical pudding, soy oil fried GMO fed chicken steak, mashed potatoes with glazed gravy or white toast and eggs from chickens who never saw a day of sun in their short lives. And if the children want a snack, parents can cough up the change for M&Ms and a soda. Yuck. The healthy options are pesticide laden apples and conventional rotting bananas in a basket next to the Snickers.
There is a straight line between the subsidized corporate industrial food system and the local hospital cafeteria. So when a Western trained hospital institution announces that healing a body requires organic, robust, nutrient filled food, that's really good news. And that's exactly what has happened in Easton, Pennsylvania's St. Luke's Hospital's Anderson campus.
The hospital created an employee organic community garden on a 20,000 square feet of land adjacent to the hospital. And then they took it a step further, teaming up with The Rodale Institute, one of the premier organic farming support and training centers in America. The Anderson Campus of the hospital now boasts about its own organic farm, run by Rodale employee and farmer, Lynn Trizna.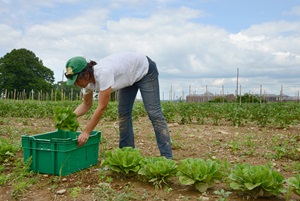 This ten acre farm includes a hoop house and produces a wide variety of organic foods, including 45,000 pounds of produce with plans to double the variety and the output. Bees, bats and flowers also dot the landscape. It's a triple bonus to all who come to the hospital – lower prices, improved health and saying no to industrial agriculture.
(Photo credit: Rodaleinstitute.org)
Sources:
Submit a correction >>