The gun industry is booming — and Smith & Wesson believes it's only going to get stronger.
Smith & Wesson (SWHC) revealed on Thursday a 40% surge in quarterly sales and a doubling of profits from last year.
The gun maker also ramped up its forecast far above what even Wall Street had been hoping for.
Smith & Wesson CEO James Debney credited "strong consumer demand" as well as his company's ability to capture more market share.
Consumers purchased 42% more Smith & Wesson handguns than last year. Shipments of long guns, which include shotguns hunting rifles and semi-automatic rifles, spiked by 119%. Debney said during a conference call the long gun growth was "large," but off of a "much lower base" than the more popular handguns.
It's the latest evidence of a thriving gun industry, in part due to concerns among some that a string of mass shootings in the U.S. will cause the government to limit gun sales. FBI background checks for gun purchases have surged in recent months and are on track to shatter last year's record.
Smith & Wesson stock soared 5% during regular trading on Thursday, just shy of the all-time highs hit last month.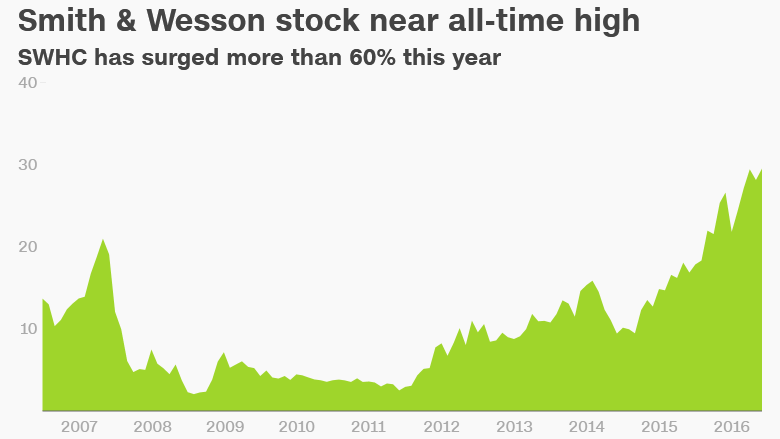 Not only did Smith & Wesson sales soar 40%, but the company now expects to earn as much as $2.48 per share this fiscal year. That's well above Wall Street's target.
Smith & Wesson also raised its sales guidance for the fiscal year above expectations.
Some gun executives have suggested the possible election of Hillary Clinton, who wants to restrict military-style assault weapons, as a driver behind strong demand.
Sturm Ruger (RGR) CEO Michael Fifer recently told CNNMoney that gun makers are facing a "unique time in our history" because a presidential candidate is "actively campaigning" against the industry and criticizing a Supreme Court ruling on firearms.
However, Jeffrey Buchanan, Smith & Wesson's chief financial officer, indicated the company's bullish outlook isn't based on the race for the White House.
The company's guidance "doesn't assume any particular victor in the presidential election," Buchana told analysts during a conference call on Thursday.
Read more at Money.cnn.com
Submit a correction >>