There is nothing remarkable about 23726 Long Valley Road — except that it does not appear to exist.
Article by Kate Allen
Estate agents' advertisements show that the high-end Californian home — six bedrooms, pizza oven, pool — is situated in a gated community on the edge of Los Angeles. Yet prospective buyers searching online to check out the neighbourhood are wasting their time — none of the area's 648 homes appear on Google Street View.
All that online maps show of the area are street routes and names — what could perhaps be an outline plan for a future housing development. But anyone looking for a kerbside view of the property will find no evidence of it.
The community's name gives a clue why: it is called Hidden Hills. What the area's occupants — who reportedly include Kim Kardashian, Miley Cyrus, Justin Bieber and Jennifer Lopez — value above all is privacy. That includes banning Google's photography vehicles from entering (and declining to talk to the FT; a spokeswoman for the area's management company said it had a policy of not giving interviews to the press).
Academics have long used the names "hidden communities" or "invisible communities" to denote areas with high concentrations of deprivation and social marginalisation. Yet some of the world's most privileged people are choosing to hide from the public eye to protect their homes from burglars and other forms of unwelcome attention.
In an evermore connected world, privacy is perhaps the greatest luxury anyone can buy.
This demand for under-the-radar living has fuelled the spread of places like Hidden Hills. California has several other neighbourhoods that guard their privacy by refusing to appear on Street View, including Bradbury and Bell Canyon. All are among the most affluent neighbourhoods in the US.
Author and futurist Geoff Manaugh, whose book A Burglar's Guide To The City documents these attempts to take entire communities out of the public gaze, calls it an "urban-scale non-disclosure agreement".
The occupants of such areas "do not want to be discussed" and operate on the basis that "out of sight [means] out of mind — and out of the reach of burglars," he writes.
To be clear: these options are not a true stealth strategy, hiding you from the tax authorities or security services. But they are a way of avoiding more casual unwanted attention, from nosy neighbours to the paparazzi.
"There was a time when people really flaunted their wealth; now they don't," says David Forbes, head of private office at estate agent Savills who advises wealthy buyers. "People's priorities over the years have shifted. Now right at the top of the list it's security."
He cites the routine use of shell companies and other ownership structures to give property buyers anonymity, along with the increasing popularity of gated communities rather than "buying the individual villa up on the hill that everyone can see". Homeowners are also pouring "a lot more money than ever before" into home security systems, he says.
This safety threat can be very real, Forbes warns. "If you're driving a convertible Bentley right now in the South of France you're asking for trouble, you'll be followed back to your villa by a couple of scooters. People will still spend their money on boats and planes but open street displays of wealth, no, people don't want to attract that kind of attention."
This caution is feeding through into the design of homes. "There are always people who want what's known as kerb appeal but there are many others who don't want anyone to know where they live, they want to be discreet."
Attempts to avoid a property's detection can range from the small-scale to the colossal. At its most minute, location trackers such as GPS can be blocked using a jamming signal, preventing attempts to follow individuals.
Such jammers are legally questionable in many jurisdictions: some governments have banned their sale and use. They work by disrupting the communications between satellites and location detectors which are contained in many everyday technological devices including mobile phones, digital pedometers and smartwatches — and, more sinister, can be attached to vehicles by stealth.
On a larger scale, architects have begun to experiment with ways to conceal whole buildings.
The simplest way to remove habitation from public view is to put it underground, with basement dig-downs or even entire subterranean properties.
Langtry House near Hampstead Heath in London, for example, is a substantial property with three bedrooms, three bathrooms and a cinema room which has been fitted into the space underneath what was previously a row of lock-up garages.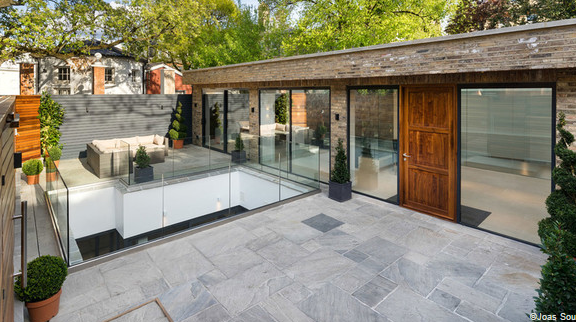 The constrained site is tucked behind a mansion block. Although the home's design was influenced primarily by tight planning regulations, which severely limited its height, the result is a Bond villain-style hidden lair.
For properties that remain above ground, some architects are trying out stealth concealment designs. An architectural experiment proposed by JaK Studio involves cladding the upper floors of a family home in Brockley, south-east London, with layered mirrors that reflect its leafy surroundings, disguising its scale and form.
For extra stealth, property owners can take their homes off the grid — generating their own electricity and water supply avoids tell-tale pipes and wires heading on to their land. Self-sufficient communities have become increasingly popular for privacy, as well as ecological, reasons; some estimates suggest that 180,000 households are living off the grid in the US alone.
The Three Rivers Recreation Area in Oregon is one example. With about 80 permanent residents and more than 4,000 acres in total, the area includes a marina, private airstrip, desert golf course and hiking trails.
Like Hidden Hills, its homes do not appear on Google Street View.
Keeping a property off the map has a long pedigree: famously, London's iconic Post Office Tower was an official secret for decades despite towering over the city as its tallest building for more than two decades after its construction in the 1960s. The tower did not appear on London maps and its existence was only formally acknowledged in 1993 when Labour MP Kate Hoey spoke about it in the House of Commons — bizarrely, given that the building was given an official launch party in 1965 and was then open to the public for 15 years.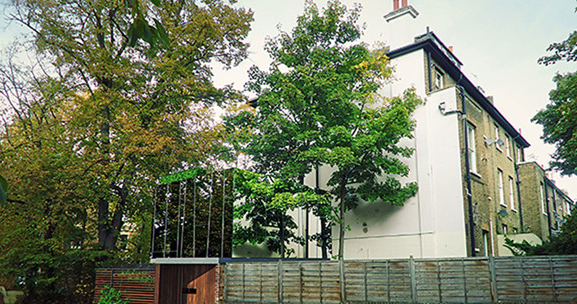 The proliferation of private public space is leading to a world with multiple levels of mapping: like a computer game, those in the know can find hidden spaces that are invisible to the unknowing mass of other people.
In his dystopian fantasy detective novel The City & the City the author China Miéville envisages a world in which two twin cities share the same physical space but are invisible to each other everywhere except a handful of areas which exist in both places and are essentially border zones.
One of Miéville's characters cites a popular bit of local folklore which has boy meeting girl but then both spending the rest of their lives walking alongside each other unknowingly, as they occupy different cities.
The pair would "spend their lives faithful and alone, rising at the same time, walking crosshatched streets close like a couple, each in their own city, never breaching, never quite touching, never speaking a word across the border", Miéville writes.
Although people who choose to live under the radar in the real world are not quite so invisible to the rest of us, there is a parallel here. Like Miéville's fictional characters, they walk alongside us during the day, but at night they disappear off the map.
Kate Allen is an FT political correspondent
Illustration by Sarah Hanson
Photographs: JaK Studio; Joas Souza
Read more at: ft.com
Submit a correction >>