'WAKE UP & JOIN THE RESISTANCE': Sarah Silverman calls for a military coup to overthrow Trump
Comedian Sarah Silverman appeared to call for a military coup in a tweet Wednesday night 
'WAKE UP & JOIN THE RESISTANCE. ONCE THE MILITARY IS W US FASCISTS GET OVERTHROWN. MAD KING & HIS HANDLERS GO BYE BYE,' she wrote  
The tweet was published as protests turned violent in Berkeley, California over a speech planned by far-eight Breitbart editor Milo Yiannopoulos
During the primaries, Silverman supported Sen. Bernie Sanders, before backing Sec. Hillary Clinton against Donald Trump  
(Article by  Ashley Collman from Dailymail.co.uk)
Millionaire comedian Sarah Silverman appeared to call for a military coup in a tweet last night, as protests against far-right Breitbart editor Milo Yiannopoulos turned violent.
'WAKE UP & JOIN THE RESISTANCE. ONCE THE MILITARY IS W US FASCISTS GET OVERTHROWN. MAD KING & HIS HANDLERS GO BYE BYE,' Silverman wrote.
Later she added: 'We're all gonna die sounds so dire but we are though (all gonna die).'
Trump supporters and conservatives were quick to tear Silverman's tweet to shreds, calling for her to be arrested for treason and even using anti-Semitic rhetoric against the Jewish stand-up comedian.
Silverman's tweets were published as protests against alt-right editor Milo Yiannopoulos turned violent at UC Berkeley
You are delusional. Military? Lol. You, your elitist friends, rioters & the convicts are going to wake a sleeping giant,' one Twitter user wrote.
Another user called The Socratic Hippie wrote: 'You're fighting for a lost cause, Sarah. You're practically giving Trump a second term, with your incendiary rhetoric.'
The riots that broke out in Berkeley Wednesday night were in response to a speech Breitbart editor Milo Yiannopoulos was scheduled to get at UC Berkeley.
Silverman's tweets were not well received by conservatives and Trump supporters on Twitter






Yiannopoulos, a 32-year-old right-wing provocateur, is a vocal supporter of Trump and a self-proclaimed internet troll whose comments have been criticized as racist, misogynist, anti-Muslim and white supremacist. He was banned from Twitter after leading a harassment campaign against 'Ghostbusters' actress Leslie Jones.
His visit to Berkeley was sponsored by the campus Republican club. The university has stressed it did not invite him and does not endorse his ideas but is committed to free speech.
But when protesters started smashing store windows in their march through town, the university called the speech off.
This morning, President Trump responded to the protests by threatening to cut the school's federal funding. That would be a major blow to the nation's education system, since Berkeley is the nation's top-ranked public university.
During the presidential campaign, funnywoman Silverman got serious about politics – becoming an outspoken supporter of Sen. Bernie Sanders.
Though she stumped for Sanders on the campaign trail, Silverman switched allegiances to Sec. Hillary Clinton, when the former first lady won the party's nomination.
She even elicited boos at the Democratic National Convention, when she told the 'Bernie or Busters' that they were 'being ridiculous'.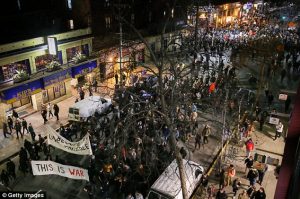 Protests in Berkeley, California against far-right editor Milo Yiannopoulos turned violent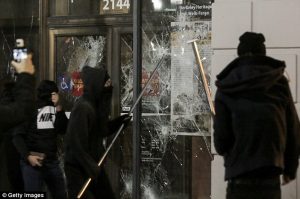 Several local businesses were damaged in the mayhem Wednesday night in Berkeley 
Read more at: Dailymail.co.uk)