MSM buries biggest story of the year of murdered DNC staffer's connection to Wikileaks, with yet another fake news story
Brief Background– On July 10, 2016, amidst the Hillary Clinton campaign and DNC being roiled by Wikileaks publications of DNC emails and Podesta emails, Seth Rich, a DNC data analyst, was shot two times in the back, murdered. At the time, Wikileaks had made it abundantly clear that despite reports claiming the DNC and the Clinton campaign had been hacked, the information given to them came from a "leak," not a hack. After the murder, Wikileaks first offered a $20,000 reward and second, Wikileaks founder Julian Assange was interviewed, spoke directly about the "risks" that leakers faced, then used Seth Rich's murder as an example of those risks.
(Article by Susan Duclos republished from AllNewsPipeLine.com)
Watch the video below:
Interviewer:  "The stuff that you're sitting on… is there an October surprise in there?
Julian Assange says, " Wikileaks never sits on material. Whistleblowers go through significant efforts to get us material and often very significant risks. There is a 27 year old who works for the DNC, who was shot in the back and murdered just a few weeks ago – for unknown reasons- as he was walking down the street in Washington.
Interviewer: "That was just a robbery, I believe… wasn't it?"
Julian Assange: "No. There's no findings."
Just last night Julian Assange highlighted the Fox5 bombshell, and Wikileaks highlighted the Fox News report: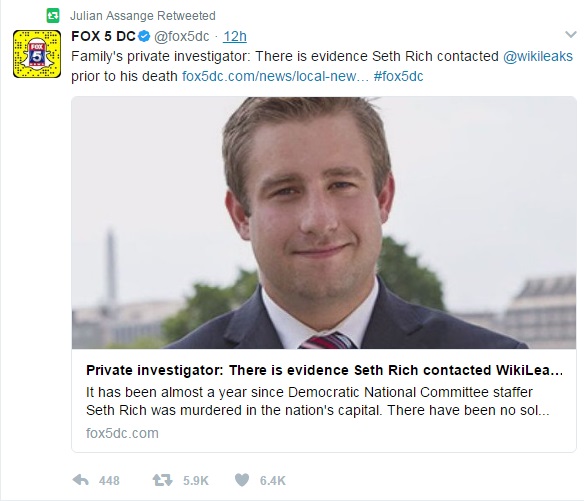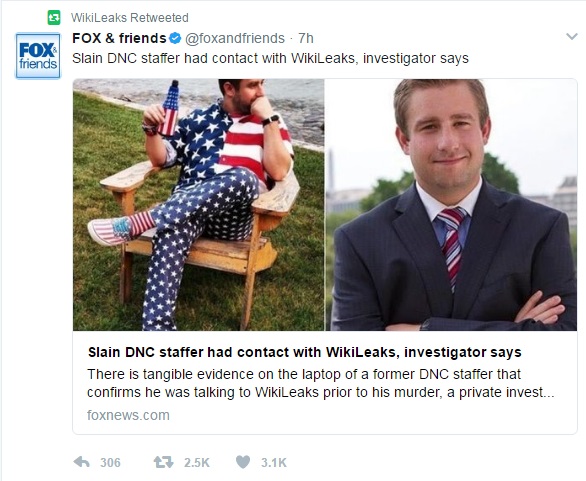 While Wikileaks doesn't openly reveal sources, Assange and Wikileaks are doing everything but drawing a map with huge arrow going from Wikileaks to Seth Rich.
Present Day – Seth Rich's family, dissatisfied with the "official" explanation that Rich was the victim of a random "robbery" attempt, especially since nothing was taken from him after being murdered, hired a private investigator, Rod Wheeler, who just happened to be a former DC police homicide detective, has uncovered "tangible evidence on Rich's laptop that confirms he was communicating with WikiLeaks prior to his death," as reported by Fox5 News.
Wheeler also told us, "I have a source inside the police department that has looked at me straight in the eye and said, 'Rod, we were told to stand down on this case and I can't share any information with you.' Now, that is highly unusual for a murder investigation, especially from a police department. Again, I don't think it comes from the chief's office, but I do believe there is a correlation between the mayor's office and the DNC and that is the information that will come out [Tuesday].
Read more at: AllNewsPipeLine.com