How hospitals keep their patients sick by feeding them Ensure, a "junk food" nutrition shake
---
Once upon a time, long long ago, doctors used to take some time to educate their patients on how to maintain a healthy body and mind through nutrition and stress reduction. Unfortunately, a horrible and evil monster invaded the land (let's call it Fraudzilla) and decided that this idea of nutrition was nonsense and the people's ills were better managed through synthetic and toxic medications created in a lab. Since the lure of money was so promising, doctors took the bait and abandoned all common sense and logic with regards to helping patients overcome chronic health problems.
It was the beginning of the end for quality health care, as this method of medicine became ingrained in nearly all areas of the world. Doctors became busy pill pushers, and any semblance of nutrition advice went out the door, along with the patient's chances of a solid recovery.
Then came the final death blow. In their infinite wisdom, hospital staff started endorsing their "flagship recovery product" to any patient who needed some serious help, so they could get a leg up on their recovery. However, this recovery product was of no help at all, and for many, it created their final curtain call.
For anyone with any common sense, it's about to become crystal clear why hopes of recovery from illness are virtually destroyed when this "nutrition shake" is taken as any part of the antidote.
The "nutrition shake" that wasn't
Before the ingredients are unveiled for this very popular nutrition shake, keep in mind that these formulas could make a healthy person sick, so try to fathom what this would do to someone who is already very sick. It's not pretty.
So lo and behold, the "nutrition shake" commonly recommended to sick and desperate patients.
Ensure Original Nutrition Shake
Ingredients: Water, Corn Maltodextrin, Sugar, Milk Protein Concentrate, Blend of Vegetable Oils (Canola, Corn), Soy Protein Isolate, Nonfat Milk. Less than 0.5% of: Magnesium Phosphate, Potassium Citrate, Natural & Artificial Flavor, Cellulose Gel, Salt, Calcium Carbonate, Calcium Phosphate, Choline Chloride, Ascorbic Acid, Sodium Citrate, Cellulose Gum, Potassium Chloride, Monoglycerides, Soy Lecithin, Carrageenan, Potassium Hydroxide, Liquid Sucralose, Ferrous Sulfate, Zinc Sulfate, Acesulfame Potassium, dl-Alpha-Tocopheryl Acetate, Niacinamide, Manganese Sulfate, Calcium Pantothenate, Copper Sulfate, Thiamine Chloride Hydrochloride, Pyridoxine Hydrochloride, Vitamin A Palmitate, Riboflavin, Chromium Chloride, Folic Acid, Biotin, Sodium Molybdate, Potassium Iodide, Sodium Selenate, Phylloquinone, Vitamin D3, and Vitamin B12.
Analysis: The first ingredient, water, would seem to be fine on the face of it, until you realize that the probability of this water being properly filtered is very low, which means you are drinking dirty water, most likely the equivalent to tap water. You can find out here why that's a big problem.
The second ingredient is corn maltodextrin, a high glycemic GMO ingredient, with little to no nutritional value. [For more on GMOs, visit Biotech.news.]
The third ingredient, sugar, speaks for itself. The number one thing someone who is very sick should avoid indiscriminately is sugar, in any form (especially white).
The fourth ingredient is milk protein concentrate, which may seem helpful for some, but when you consider the allergic effects and mucous that milk creates in the body, it immediately becomes a health hazard. This is before you even discuss the fact that this milk is not organic, so could be filled with hormones, steroids, and puss, along with GMO residue from cows being predominantly fed corn.
As we get further into the ingredients we see more GMOs (canola, corn and soy protein isolate/soy lecithin), artificial flavors, toxic thickeners (carrageenan), artificial sweeteners (sucralose), and a myriad of isolated and synthetic vitamins and minerals that are poorly absorbed. This is the classic format for multivitamin formulas, but this article explains why these formulas are expensive toilet flushers, at best.
Yes folks, this is supposed to HELP with recovery from illness. Do you see the problem here?
But wait, perhaps you haven't been recommended Ensure, but the Boost shake instead. Well, a quick look at their primary ingredients shows water, corn syrup, sugar, milk protein concentrate, and vegetables oils of canola, corn, and sunflower. Perhaps in an effort to save face, they have half way down the ingredient list "stevia leaf extract," but this is a far cry from turning this formula into anything that facilitates recovery.
And you thought these were nutrition shakes and your doctor knew best.
The good news is, there are a few bonafide nutritional formulas out there that actually remove all the harmful ingredients and put together a bounty of highly nutritious whole foods in a condensed (not isolated vitamins and minerals) format that is easily absorbed by the body. This is EXACTLY what anyone recovering from illness needs, and the same goes for anyone who wants to avoid the hospital in the first place. An ounce of prevention is certainly worth a pound of cure.
So if you or someone you love is dealing with sickness and need a simple recovery drink, please avoid these commonly hospital recommended nutritional shakes. Instead, focus on nutrient dense, highly digestible, superfood powders that can be easily mixed into juice, water, or even a smoothie. If you need a high quality source, get the Health Ranger's Fermented Super30 which will provide the nutrients required for a healthy recovery (and a healthy life, for that matter).
Remember, nutrition is paramount to your health and overcoming any challenges you may face. Make it a daily habit to flood your body with optimal nutrition, and should you come down with an illness, be wary of nutritional shakes offered by hospital staff, and choose whole food nutrition instead.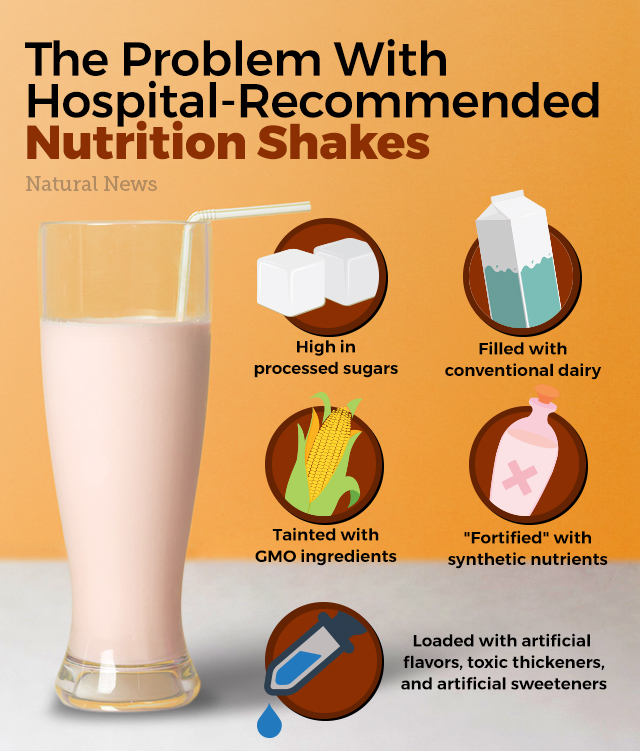 Sources for this article include: