NY Attorney General Eric Schneiderman resigns following allegations of assaults on numerous women who claim he choked them, slapped them, and even threatened to kill them
New York Attorney General Eric Schneiderman resigned on Monday after numerous women came forth with allegations of the #MeToo movement advocate's lust for physical assault, launching claims the outspoken women's rights figure chocked, slapped, and even threatened to kill several women who dated the prominent Trump critic.
New York Magazine/Huffington Post reporter Yashar Ali first heard about the now defamed Attorney General's dirt early Monday morning before firing out a bombshell tweet which read:
Ali's bombshell was followed by a report in the New Yorker which detailed the chauvinist's violent sexual encounters with four women who've accused Schneiderman of subjecting them to nonconsensual physical violence and pain.
According to the report: "All have been reluctant to speak out, fearing reprisal. But two of the women, Michelle Manning Barish and Tanya Selvaratnam, have talked to The New Yorker on the record because they feel that doing so could protect other women."
Two of the women, Michelle Manning Barish and Tanya Selvaratnam, allege Schneiderman would abuse and strike them repeatedly without their consent, especially after consuming alcohol which eventually led to the women seeking medical attention. Moreover, Selvaratnam claims that Schneiderman told her that he could have her tracked and her phones tapped, and both women claim the former AG threatened to kill them if they split up with him.
From the New Yorker:
A third former romantic partner of Schneiderman's told Manning Barish and Selvaratnam that he also repeatedly subjected her to nonconsensual physical violence, but she told them that she is too frightened of him to come forward. (The New Yorker has independently vetted the accounts that they gave of her allegations.) A fourth woman, an attorney who has held prominent positions in the New York legal community, says that Schneiderman made an advance toward her; when she rebuffed him, he slapped her across the face with such force that it left a mark that lingered the next day. She recalls screaming in surprise and pain, and beginning to cry, and says that she felt frightened. She has asked to remain unidentified, but shared a photograph of the injury with The New Yorker.
To make matters even more interesting, the departed Attorney General was forced to resign on Monday after New York Governor Andrew Cuomo issued the following statement:
The New Yorker has published an article on Attorney General Eric Schneiderman, which reports multiple women making serious allegations of assault. No one is above the law including New York's top legal officer. I will be asking an appropriate New York District Attorney(s) to commence an immediate investigation and proceed as the facts merits. My personal opinion is that, giving the damning pattern of facts and corroboration laid out in the article, I do not believe it is possible for Eric Schneiderman to continue to serve as Attorney General, and for the good of office he should resign.
Shortly after Cuomo's post, Schneiderman confirmed his resignation.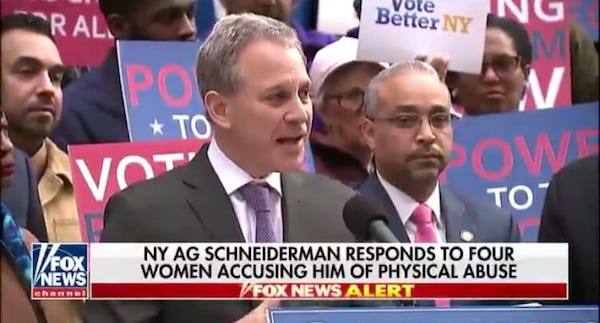 "It's been my great honor and privilege to serve as Attorney General for the people of the State of New York. In the last several hours, serious allegations, which I strongly contest, have been made against me. While these allegations are unrelated to my professional conduct or the operations of the office, they will effectively prevent me from leading the office's work at this critical time. I therefore resign my office, effective at the close of business on May 8, 2018," Schneiderman wrote in a statement posted on his official website.

Political repercussions?
And if that's not enough, keep in mind that Schneiderman was working hand in hand with Robert Mueller on the Paul Manafort case and was also a heavy critic of Donald Trump, especially during the run up to the the 2016 general election. However, the story gets even deeper as Donald Trump alerted the general public of Schneiderman's greasiness back in 2013 when he tweeted:
To boot, Schneiderman led a lawsuit against Trump during his presidential run which alleged the business mogul scammed thousands upon thousands of dollars from Trump University participants which turned out to be false.
The former AG, who was also critical of disgraced Hollywood producer Harvey Weinstein over his sexual misconduct, apparently leads a fake life riddled with double standards and is now denying the New Yorker's brash claims by professing that he was merely 'role-playing.'
The Manhattan District Attorney's Office has opened a probe into the allegations.
Stay tuned! There will be more from this website as the saga develops.
Submit a correction >>