Another woman steps up to accuse DNC co-chair Keith Ellison of abuse but the Left and their media IGNORE it to focus on Trump noise
A second woman has accused Rep. Keith Ellison, D-Minn., co-leader of the Democratic National Committee, of sexual abuse in less than a week, and the disgustingly dishonest establishment media is doing its best to focus instead on more noise surrounding POTUS Donald Trump.
On Sunday, Ellison's former paramour, Karen Monahan, an organizer for the Left-wing environmental organization Sierra Club, accused him of violently abusing her, while her son, Austin, posted on his Facebook page that he found more than 100 texts and Twitter messages as well as video showing the Minnesota Democrat being violent with his mother.
Austin wrote that the video showed Ellison "dragging my mama off the bed by her feet, screaming at her and calling her a 'f**king b**ch' and telling her to get the f**k out of his house," the Facebook post noted.
He noted further that the texts contained a mix of apologies from Ellison and threats to "bully her" and 'victim-shame' her if she ever went public with what had happened. Austin then said he texted Ellison to inform him he saw the video and texts before confronting his mother about what had happened.
"We were ready to go public but our mom begged us not to and she along with others convinced us it wasn't in our moms [sic] best interest," Austin wrote, also referencing his brother. He also wrote that "there is a lot more [Ellison] has done" to Monahan "and others that we saw in the text [sic] but our mom can decide if and when she wants to tell the world that part."
He also laid into Democrats. "I used to believe the Democrats were the ones who would stand by a person who when through this kind of abuse, now I know both Democrats and Republicans could care less when it comes to violence toward women and girls," he wrote. (Related: H-wood screenwriter on Harvey Weinstein sex abuse: 'Everybody f**king knew'.)
Another accusation – and credible evidence
Now, yet another Minnesota woman has stepped up to level similar accusations against Ellison, who – by the way – is running for Minnesota attorney general (you can't make this hypocrisy up).
Not only is the second woman stepping up with accusations, she's also stepping up with a police 911 report that confirms her allegations, as The Gateway Pundit reports (with a hat tip to investigative journalist Laura Loomer, who discovered the report and posted it her website).
"Following Monahan's allegations, another woman by the name of Amy Alexander also claimed that Ellison had abused her during a 2005 relationship," Loomer wrote. "While Monahan didn't provide any evidence of the domestic assault, there is evidence to support the second woman's claims" – the police report.
"CLR REP'G SHE WAS ASLT'D BY ELLISON/KEITH/BM/41/WRG SUIT," the report notes (Caller reporting she was assaulted by Ellison/Keith/black male/41 years old/wearing a suit). It went on to note that Ellison left her apartment, she didn't know where he was going, did not need emergency medical attention, and that she wanted to talk to officers.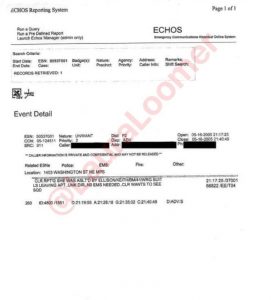 Loomer noted that while the caller's name was redacted on the 911 report, the address was not – 1403 Washington St. NE, in Minneapolis. And according to a records search, Alexander used to live at that address. As for Ellison, he is currently 55 years old; Loomer notes that he would have been 41 at the time of the alleged assault.
Plus, "Amy Alexander is a Democrat activist who said she was having an affair with Ellison," Loomer writes. "In 2006, she wrote an article called 'Coming out of the Dark: Breaking the Silence About the Anointed Candidate,'" published by the Wright County Republican.
Meanwhile, the rest of the "mainstream" media is feting an accused liar and fired White House staffer named Omarosa Manigault-Newman, who's being sued by Team Trump for violating a non-disclosure agreement she signed in 2016 to work for the campaign.
More proof the establishment media is nothing more than the Democrats' propaganda machine.
Read more about the lying fake news media at NewsFakes.com.
Sources include:
Submit a correction >>