Coronavirus infections in USA blow past 500, with 21 deaths now confirmed… while Italy locks down a quarter of its entire population under medical martial law
---
Each day as the coronavirus infection numbers explode in America, the
mentally ill pandemic denialists
have to double and triple down on their mental contortions to deny the reality unfolding right before their very eyes. Today, the US surpassed
500 infections
and
21 deaths
while
10,400 people are being monitored for possible infections (but not tested) in California alone
.
These trends are plunging the nation straight toward an Italy-style medical martial law scenario that now has a quarter of the Italian population under forced quarantine. As our pandemic projection model shows, the USA is now on track to see 2.16 million deaths from the coronavirus by July 4th if nothing is done to alter the spread of the virus that's now exploding in Washington, California, Oregon and New York.
In fact, according to the projection model, US deaths are already happening faster than what that model would predict.
Here's where our model predicts we would be over the last three days:
Date  |  # of deaths projected  |  # of actual deaths March 6     13     17
March 7     15     19
March 8     18     21
In other words, the number of deaths is actually greater than what the models projected for these three days.
Here's what the model predicts in terms of US deaths for the rest of March. You can follow along each day to see whether this projection is optimistic or pessimistic:
9-Mar    22
10-Mar    26
11-Mar    30
12-Mar    35
13-Mar    40
14-Mar    47
15-Mar    54
16-Mar    62
17-Mar    71
18-Mar    81
19-Mar    92
20-Mar    104
21-Mar    118
22-Mar    134
23-Mar    151
24-Mar    170
25-Mar    191
26-Mar    215
27-Mar    241
28-Mar    270
29-Mar    303
30-Mar    338
31-Mar    378
We will of course watch the real numbers unfold. If the actual number of real-world deaths is lower than these projections, we will revise the model with a "suppression" factor to increase its accuracy. We anticipate releasing a new revision of the model about every two weeks to account for changing social isolation policies, travel restrictions, quarantines and other measures that should hopefully reduce the spread of the coronavirus and prevent the deaths from reaching 2.16 million by July 4th.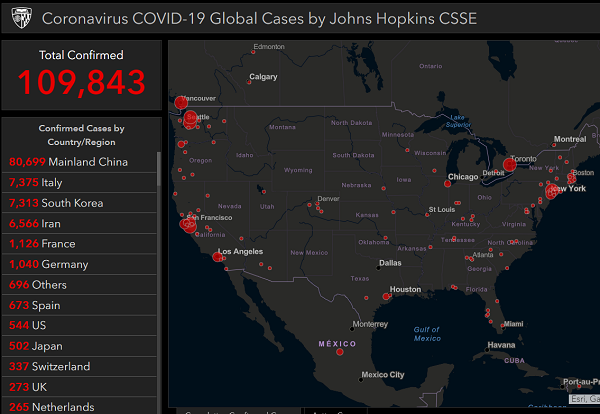 However, if President Trump continues on his current path, claiming that essentially, "Everything's awesome!" instead of shutting down domestic travel to stop the spread, there's no question we will continue to see exponential growth across America.
You can bank on it in exactly the same way you can count on gravity and rely on the sun coming up each morning. The virus will replicate based on the laws of biology and mathematics. Its theoretical course is easily calculated. The only unknown factor right now is how the USA chooses to respond to the virus in terms of diagnostic testing, social isolation and transparency instead of the usual propaganda and insultingly stupid lies from Pence and Azar.
So far, thanks to the "Don't Test, Don't Tell" policy that we first described on Natural News last month, almost no one is being tested for the coronavirus in the USA.
Obviously, it is impossible to halt the spread of an infectious disease if you aren't testing for it. And Trump's claim that the U.S. government has a "perfectly coordinated plan" is nothing short of terrifying unless your plan involves the extermination of millions of human beings.
We have now entered the era of Idiocracy when it comes to the U.S. government's response to the coronavirus. Watch the video below to learn how the CDC plans to handle infected patients in hospitals across America (explicit language):
Brighteon.com/297b6886-ab66-487b-b8d7-38a2f5663d77
If you want to live, read Pandemic.news. If you want to die, listen to the CDC.