Democrats continue to lie about the Jan. 6 Capitol attack that was set up by deep state; Schiff alters texts to ensnare Trump allies
---
Donald Trump was so good at being president and his policies so spot-on in terms of legitimately making America great again, that the globalist deep state, which has to keep things at "status quo" in order to continue maintaining the military-industrial complex, had to fabricate one scandal after another in order to keep Trump tripped up.
The first one wasn't even the most heinous: 'Trump-Russia collusion,' a lie from the outset devised, in part, with 2016 Democratic presidential nominee Hillary Clinton's campaign money and assistance, which also got help from D.C. Democratic and Republican insiders. Before the lie was ultimately exposed, American taxpayers had foot the bill for hundreds of millions in 'investigative' costs consisting of a slew of congressional probes and one 'special counsel' investigation handled by longtime insider Robert Mueller.
Then it was the "Russian bounty on American soldiers in Afghanistan" hoax followed by the "Ukraine quid pro quo" lie, the latter of which led to Trump's first impeachment. And then, the coup de gras: The Jan. 6 "insurrection" that we know for certain was planned and carried out by the intelligence, federal law enforcement, and media deep state conglomerate.
And now, despite the fact that Trump's out of office because the same cabal literally stole his election and installed a feeble, mentally unfit, senile old man in Joe Biden, the same Mil-Ind complex continues to go after the 45th president and all of his allies because they are scared to death he will run again and win -- then, after four years' worth of experience in D.C., know exactly what he needs to do to expose these traitors and return the country to We the People.
Case in point: There literally is no evidence to even suggest that Trump and his congressional allies plotted the Capitol Building assault; none. Zero. Nada. In fact, the evidence has shown from the beginning that it was a deep state operation using agents provocateur. But anti-republic scumbags like Rep. Adam Schiff of California are literally inventing 'evidence' so that they can sell the lie to the American people (again) that Trump is the real traitor, not them.
Oops, he did it again. After leaking fake Donald Trump, Jr. emails, fabricating the transcript of a 2019 phone call between former President Donald Trump and Ukraine's president, and lying about his interactions with the so-called whistleblower behind House Democrats' first impeachment of Trump, Rep. Adam Schiff, D-Calif., is now running the same con against a fellow lawmaker. During a hearing Monday night on the riot at the U.S. Capitol on Jan. 6, 2021, Adam Schiff claimed to have proof that a member of Congress texted former White House chief of staff Mark Meadows to instruct former Vice President Mike Pence to overturn the 2020 presidential election results.
Not only did Schiff misrepresent the substance of the text message and its source, he even doctored original text messages, which were obtained and reviewed by The Federalist in their entirety.
"I want to display just a few of the message[s] he received from people in Congress," Schiff said, referring to Meadows. "The committee is not naming these lawmakers at this time as our investigation is ongoing. If we could cue the first graphic."
Here's the graphic that Schiff was referring to: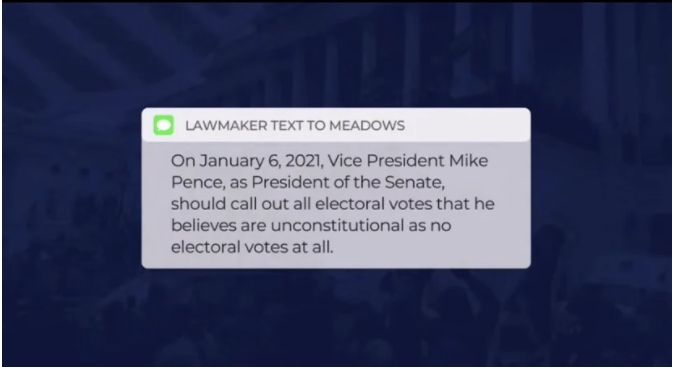 "This one reads, 'On January 6, 2021, Vice President Mike Pence, as President of the Senate, should call out all electoral votes that he believes are unconstitutional as no electoral votes at all,'" Schiff continued. "You can see why this is so critical to ask Mr. Meadows about. About a lawmaker suggesting that the former vice president simply throw out votes that he unilaterally deems unconstitutional in order to overturn a presidential election and subvert the will of the American people."
But, as The Federalist's Sean David pointed out:
Not only did Schiff lie about the substance of the text message and its source, he even doctored the message and graphic that he displayed on screen during his statement. The full text message, which was forwarded to Meadows from Rep. Jim Jordan, R-Ohio, on the evening of Monday, Jan. 5, was significantly longer than what Schiff read and put on screen, but Schiff erased significant portions of the text and added punctuation where there was none to give the impression that Jordan himself was tersely directing Meadows to give orders to Pence on how to handle the electoral vote certification.
But of course, there won't be any charges filed against Schiff for lying to Congress; those are reserved only for Trump allies.
These people trying to destroy Trump are also trying to destroy those of us who, like our real president, are trying to defend what is left of our freedom.
See more reporting like this at DeepState.news.
Sources include: