Israel is overrun with COVID-19 despite being first to mass-vaccinate its population: "The experiment must stop"
---
New York Times investigative journalist and author-turned-COVID-19 researcher Alex Berenson notes in a piece recently posted to his Substack site that Israel has proven beyond any doubt that the COVID-19 vaccine "experiment" has failed and thus, he is calling for an end to forced mass vaccination.
"Israel has always been the most important country to judge the mRNA Covid vaccines. Why? It has nearly total adult vaccine coverage," Berenson begins in his post.
He goes on to point out that any effort to blame the ongoing infection rate in Israel -- which recently led the world in COVID positives per capita -- on "the unvaccinated" isn't just wrong, it's completely disingenuous given the country's vaccination rate.
"Israel has good data -- far more complete and up-to-date than American figures. And it vaccinates quickly, so whatever impact the vaccines are having rolls through the population (and the data) quickly," he writes, adding that what happens in Israel matters most because the country was the first to mass-vaccinate.
Specifically, the Israelis used Pfizer's mRNA vaccine for its mass jab campaigns and were also the first to require its citizens to get boosted. And since "human biology is the same everywhere," it makes sense to use Israeli data to judge the effectiveness of the shots because "what happens" there "happens in all other mRNA countries eventually." Berenson goes on to point out that the chief scientific officer of Pfizer admitted in September that Israel is a "sort of laboratory" for those vaccines.
"Here's how the Israeli experiment is going," Berenson wrote as he posted a chart that tracks serious COVID cases in Israel -- essentially those requiring ICU hospitalizations -- from the beginning of the pandemic in early 2020: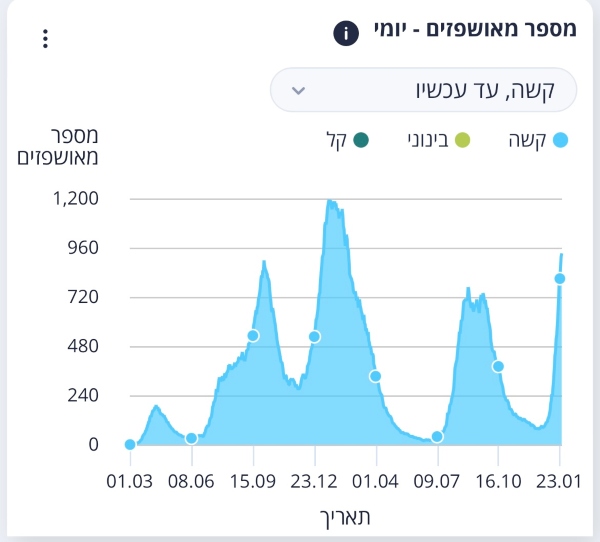 "The United States has 36 times as many people as Israel, so 1,000 ICU patients translates into 36,000. Israel also has a relatively young population, meaning Covid will be less severe overall than in the US," Berenson noted.
He went on to point out that the chart shows five distinct COVID-19 sickness spikes:
The first two are in 2020, in the pre-vaccine era.
The third spike, the middle one, is the largest so far. It took place from December 2020 through February 2021, just as mass vaccinations of the elderly began.
As I wrote at the time on Twitter, that link probably wasn't a coincidence. Countries near Israel that were not vaccinating didn't have spikes as severe. Britain, the second major country to start mass vaccinations, did. Later work has shown a marked rise in infections just after the first mRNA dose, probably because the vaccine temporarily reduces overall immunity to infection.
Berenson went on to say that even a bad couple of weeks would be acceptable if, overall, the vaccine campaign proved effective over the longer term. But did it?
"After January 2021, serious cases plunged, falling almost to zero by May -- a total that included some unfortunate folks who'd been stuck on ventilators for months," he noted. "This was what I would later call the happy vaccine valley, that brief period when the vaccines appeared to work as advertised."
Vaccine advocates, he continued, were giddy and everyone believed that "herd immunity" was within grasp at the time.
But as it turns out, Berenson found that the vaccine protection was short-lived and did not produce the kind of immunity that previous vaccines may have done for many viral infections. In fact, he says, research proves that natural immunity after having gotten the virus and recovered lasts much longer than vaccine 'protection.' But the world continues to rely on the vaccines and that's a mistake, he says, because Israel proves as much, as evidenced by the latest spikes despite mass inoculation and boosting.
"At this point public health authorities and governments in Israel and everywhere else had a choice," he writes. "They could admit that the mRNA vaccines were failing -- that their protection was dropping and would continue to drop -- and that the world would have to live with Covid for the foreseeable future.
"Or they could double down and offer a third 'booster' dose of mRNA -- a dose that had not been given in the large clinical trials in 2020 from Pfizer and Moderna that had led them to authorize use of the vaccines," he adds.
"The vaccines have been proven ineffective for more than a few months against the wild-type virus. They appear to have negative efficacy against Omicron," writes Berenson, citing a mountain of data proving that at best, vaccines and boosters only protect for a short while.
"It's over," he concludes. "Science didn't win."
Sources include: