---
Libertarian economist Paul Matzko of the CATO Institute says that in the future "we will own less but have more" and live under a "streams of service" economy.
(Article by Chris Menahan republished from InformationLiberation.com)
"Think Netflix or rental cars but for almost everything," Matzko said in a thread Friday on Twitter.
The vision CATO and Matzko is putting forward is virtually identical to the World Economic Forum's, which says that in the future "you'll own nothing and you'll be happy."
For a glimpse at why this will not work, just take a look at what happened with the bike share programs in Baltimore and DC a few years ago.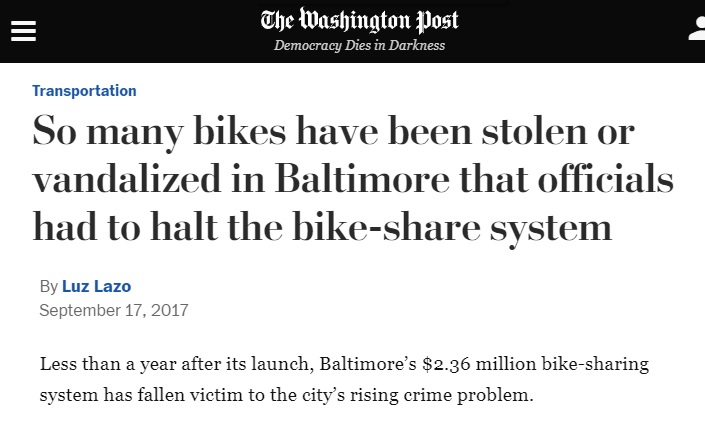 Baltimore officials refused to even tell the public how many ride share bikes were stolen from their multi-million dollar scheme.
In DC, one official revealed companies lost half their fleets.
From The Washington Post:
"They have lost a lot of their bikes," Kimberly Lucas, the city's bike program specialist told a group of regional transportation officials at a dockless-bike-share workshop sponsored by the Metropolitan Washington Council of Governments in May. She said companies have told city transportation officials that they have lost up to half of their fleets, which is significant because each company is allowed to operate a maximum of 400 bikes in the city.
Sharing everything is a nice idea in theory but in the New America™ we already know it doesn't work in practice.
The other issue is any Big Tech company which doesn't like you can just ban you because they don't like your political views.
Matzko acknowledged that's an issue but claimed people could just switch over to other providers if they got banned.
People like Nick Fuentes -- who has not been convicted of a single crime -- have been banned from every major social media site, every major payment processor, blocked from all the big sharing services, had their bank accounts frozen/closed and were put on the No Fly List.
That's the whole point of the "streams of service"-based social credit system that's being created. To our globalist oligarchs, "deplatforming" people from life is a feature and not a bug.
Read more at: InformationLiberation.com