Walt Disney Company is infested with perverts – is this why the company opposes Florida's anti-grooming legislation?
---
It is becoming clearer than ever that the Walt Disney Company, at least in its current iteration, is
infested with perverts
.
Disney has a serious pedophile problem (among other things), it turns out, with more than 35 employees at Disney World alone having been arrested for child sex crimes since 2006.
Back in 2014, CNN, of all sources, highlighted the issue. At the time, a total of 32 pedophile perverts at Disney had been convicted, and the remaining cases were pending.
"Disney ... has been plagued by employees arrested for a variety of sex crimes against children, including trying to meet minors for sex and possessing child pornography," reported the National Pulse in a recent article, shedding light on why the company today is vehemently opposed to Florida's new anti-grooming legislation.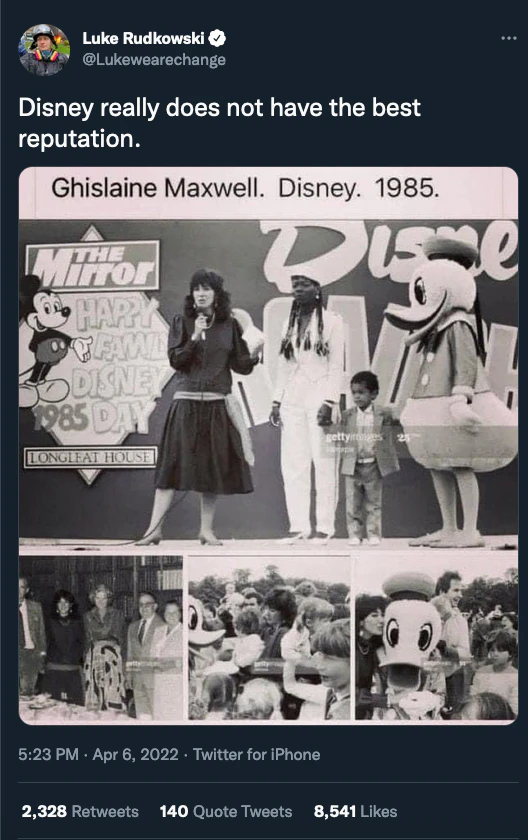 Here are a few examples of what has taken place on Disney property involving Disney employees over the years:
• A few years back, a Disney Dream ship employee from India grabbed an 11-year-old girl's breasts and forcibly kissed her in an elevator. Disney tried to cover up the incident and keep it from ruining the company's reputation as being "family-friendly."
• At Disney's Port Orleans resort, a night shift custodial manager named Cedric Cuthbert was caught downloading child pornography on his work computer while writing a sermon for his church, where he worked as a pastor. Cuthbert pleaded no contest and was sentenced to six years in prison.
• Paul Fazio, an Animal Kingdom Lodge gift shop employee, was similarly convicted of downloading videos showing "multiple scenes of nude prepubescent children engaging in sexual activity with adults and other children."
• A Disney security worker named William Marrero-Maldonado was arrested after an Osceola County Sheriff's Office investigation alleged that he had downloaded child pornography videos. He was later found guilty.
• A 27-year-old lifeguard named Xavier Jackson, who worked at the Polynesian Resort for Walt Disney, sent inappropriate photos of himself to an undercover detective pretending to be a 14-year-old girl. Jackson was charged with three counts of transmitting harmful material to a minor and one count of unlawful communication.
• Thirty-two-year-old Patrick Holgerson was among 22 arrests that were made during a massive child sex sting operation carried out by the Lake County Sheriff's Cyber Crime Unit in Florida. Holgerson and the other 21 culprits were caught trying to have sex with underage children.
• Another culprit in the sting was Joel Torres, 32, who actually brought condoms to a home where he believed he was going to have sex with a 14-year-old girl. He was charged with soliciting a child for sexual acts, as well as traveling to meet that minor and attempting to engage in lewd and lascivious battery.
• Similarly, a 49-year-old Disney World service manager named Robert Kingsolver was found guilty for attempting to meet up with a 14-year-old girl to have sex. Kingsolver oversaw ride repairs at the Magic Kingdom.
Disney opposes protecting children from pedophiles
Instead of trying to root this perversion out of the company, Disney is doubling down on trying to normalize it. Disney CEO Bob Chapek continues to speak out against HB 1557, which the corporate-controlled media and Democrats are falsely calling the "Don't Say Gay" bill.
In reality, HB 1557 aims to stop the type of child grooming activities that often lead to pedophilia and other child sex crimes. Chapek and Disney have indicated their opposition to protecting children.
"Our goal as a company is for this law to be repealed by the legislature or struck down in the courts, and we remain committed to supporting the national and state organizations working to achieve that," the company said in a statement.
More related news about Disney can be found at Evil.news.
Sources include: