Many believe Kaepernick's 'Islamic' girlfriend is behind his 'changed political views'
A conservative congressman from Iowa has blasted San Francisco 49ers quarterback Colin Kaepernick's refusal to stand for the national anthem and blames his Muslim girlfriend for 'changing his political views'.
Article by Ariel Zilber
In an interview with right-wing commentator Steve Malzberg of Newsmax TV, controversial Rep. Steve King shockingly denounced Kaepernick for his relationship with Nessa Diab, who he claims is 'sympathetic to ISIS.'
'I understand that he has an Islamic girlfriend that is his fiancée, and that this has changed him and has taken on some different political views along the way,' he told Newsmax TV, AOL reported.
'This is activism that's sympathetic to ISIS.'
Kaepernick has been roundly denounced in right-wing circles for his refusal to stand during the singing of the national anthem just before his team's games.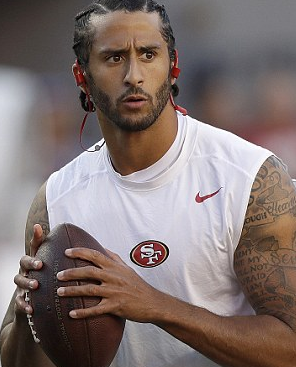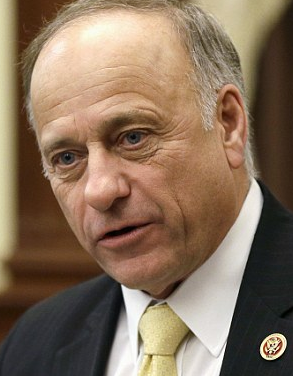 The quarterback has defended his decision to sit or kneel which he says shows his support for the Black Lives Matter movement.
'I am not going to stand up to show pride in a flag for a country that oppresses black people and people of color,' Kaepernick said.
King said that Kaepernick's actions should disqualify him from playing football.
'Until you take a knee and beg forgiveness from the American people, you're not going to set a foot on this field again,' King continued.
Kaepernick's willingness to wade into socio-political waters has ignited scrutiny of his girlfriend, a radio and television personality.
Diab, who is Muslim, has drawn attention for avowedly left-wing messages on social media, including an Instagram post praising Cuban leader Fidel Castro, among others.
Last month, the sports gossip site Terez Owens suggested that Diab has profoundly influenced Kaepernick's political views.
Some right-wing conspiracy theorists have even gone so far as to suggest that Kaepernick secretly converted to Islam and that his newfound religion is fueling a supposed disloyalty to America.
According to USA Today, Kaepernick denied he was a Muslim.
The insinuation that Muslims are inherently anti-American also sparked outrage on social media.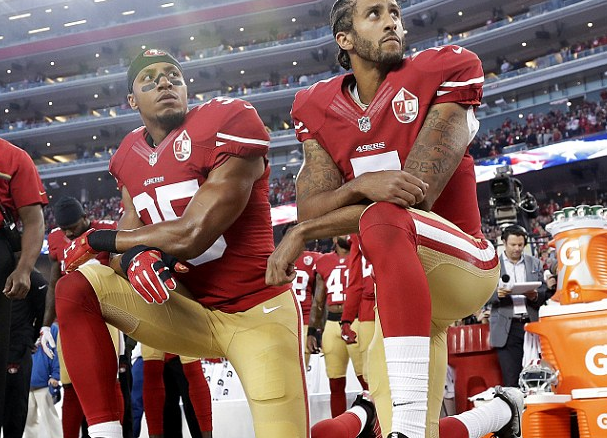 Diab, who is known by her first name, Nessa, hosts a nationally syndicated radio program, The Nessa Show.
A graduate of the University of California, Berkeley, she has also played herself in the MTV comedy series Girl Code.
The native of Southern California has also hosted the MTV hit Teen Mom Aftershow as well as other reality programs.
Diab has been a regular on sports gossip pages, particularly over her taste in athletes.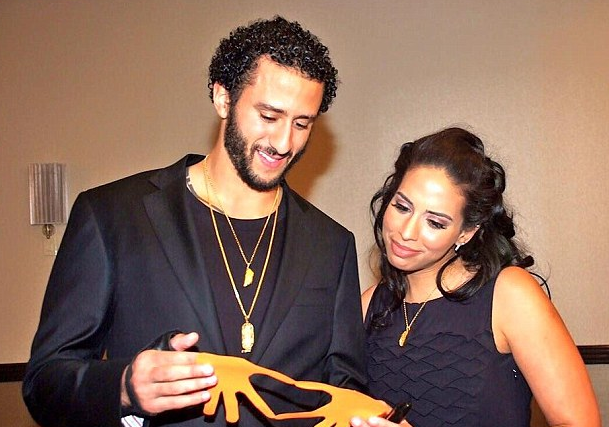 She reportedly dated Kaepernick's teammate, Aldon Smith, before taking up with the controversial quarterback.
TMZ reported that Smith and Kaepernick were engaged in an on-field altercation that may have stemmed from feelings of jealousy over Diab.
King, for his part, is no stranger to controversy.
He caused a storm at the Republican National Convention in Cleveland this past summer when he said non-whites have contributed nothing to civilization.
King was on an MSNBC panel with writer Charlie Pierce, when Pierce said the days of 'old white people' running the GOP were over. That remark sparked King's bizarre rant.
'I would ask you to go back through history and figure out where are these contributions that have been made by these other categories of people that you are talking about,' King said.
'Where did any other subgroup of people contribute more to civilization?'
'Than white people?' moderator Chris Hayes asked him to clarify.
'Than Western civilization itself, that's rooted in Western Europe, Eastern Europe and the United States of America, and every place where Christianity settled the world,' King replied.
'What about Asia? What about Africa?' said April Ryan, the only black member of the panel.
Hayes cut off the discussion, but not before mentioning that Europe had also produced Hitler and Stalin.
'On cable news we're not going to resolve the relative strengths of various strands of civilizational prowess,' summed up Hayes, diplomatically.
In January King walked out on President Barack Obama's final State of the Union address, saying he could not stand 'being lectured one last time.'
He said he would leave his chair in the House gallery empty 'to commemorate the lives of more than 55million aborted babies.' 
Read more at: dailymail.co.uk