---
Summers aren't always about fun, sun and sand. If you live in a state with very hot summers, a long-term power outage can spell trouble for your whole family.
Protect your loved ones from the heat and dehydration by prepping before a summer power outage. (h/t to TheOrganicPrepper.com)
Prepping for a summer outage means you might be dealing with common issues like heat-related illnesses and food spoilage.
Preventing heat-related illnesses and dehydration
The heat won't just cause discomfort if you don't have air conditioning; it could cause serious illnesses if you don't know how to cool down properly.
Dehydration occurs when your body loses more fluids than you consume and it can be more dangerous for older family members and younger children.
Common symptoms of dehydration can include:
A decrease in urination

Dry mouth

Fatigue or tiredness

Feeling dizzy or lightheaded

Muscle cramping

Sunken eyes

Urine that's a darker color than normal
Below are more serious dehydration symptoms that require immediate medical attention:
Confusion or disorientation

Diarrhea or vomiting (especially if it lasts longer than 24 hours.)

Difficulty moving or walking

Fainting

A rapid heart rate
If dehydration isn't treated immediately, it may cause severe complications like:
Heat exhaustion or heatstroke

Hypovolemic shock, a life-threatening complication that causes a drop in blood pressure and oxygen levels because of low blood volume

Seizures (Caused by low levels of potassium and sodium.)

Urinary and kidney problems like urinary tract infections (UTIs), kidney stones, or kidney failure
Try the following tips to help your family members stay hydrated:
Drink water throughout the day. You can also consume other beverages like fruit-infused water or fruit juices with low sugar. Avoid coffee and tea since they have diuretic effects.

Consume foods with higher water content like celery, cucumber, strawberries and watermelon or low sodium broths or soups.

Bring a reusable water bottle with you if you need to work outdoors and in hot or humid conditions for a prolonged period of time or if you're exercising.

If you're ill with symptoms like diarrhea, fever, or vomiting, drink more fluids than normal.
Stock up on clean water
When prepping for a summer power outage, you need to store a lot of water for drinking, cleaning and other tasks.
Don't rely on the faucet in your bathroom and kitchen. When SHTF, water may not run from the taps.
Even if it does, it might not always be safe to drink. If there's a boil order in place and the power is out you might have to think of other ways to boil water if you can't use your stove.
You need a two-week supply of water for the whole family, with at least one gallon of drinking water per day, per person. Finally, stock up on water for pets. (Related: Prepper must-haves: What to stock up on before a summer or winter power outage.)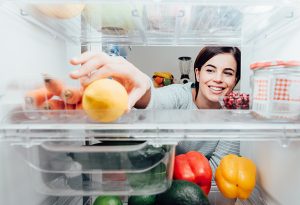 Food safety tips for power outages
If a power outage lasts for more than four hours, you need to check the food in your fridge and freezer.
Avoid opening the doors to the refrigerator and freezer to help them maintain cooler temperatures for a longer time. If the power outage continues, and the food thaws out or begins to get warm, use coolers to store your most expensive perishables then fill them with ice from the freezer to extend their lifespan.
According to the Red Cross, a half-filled freezer that is not opened the entire time that the power is out can keep the food in it sufficiently frozen for at least 24 hours. If your fridge is completely filled, the food should remain safe for about 48 hours.
How to stay cool during a summer power outage
If you don't have air conditioning on your homestead, here are other ways to stay cool:
Stay hydrated. Always have a reusable water bottle with you whether you're working indoors or outdoors. Drink at least two to four cups of water if you're working in high heat conditions.

Avoid heavy meals. Your body works harder to digest heavy, rich meals, which can then raise your temperature. Stay cool by preparing light meals like salads and fresh fruit.

Stay indoors whenever possible.

Dress for hot weather. Choose lightweight, light-colored and loose-fitting clothes. If you need to stay outdoors, wear a hat and sunglasses.

Change your schedule. Reschedule tasks to early in the morning or late in the afternoon or night so it's cooler outdoors. This ensures that you don't sweat too much and risk getting heatstroke.

Get battery-operated fans and lots of extra batteries. You can also look for rechargeable tabletop fans or handheld fans with a misting option.

Use a handheld fan to stay cool.

Use cooling towels. These are reusable and you can cool down by getting them wet in cold water. If it starts getting warm, soak the cooling towel in cold water again before reusing it.

Invite the whole family and relax by playing in the water. Get a kiddie pool and fill it up with clean water in a shaded part of the yard or use the bathtub indoors. Reuse the water for gardening or other tasks so you don't waste your resources. If you don't have extra water in your stockpile, find the nearest creek or pond and wade or swim.

Soak your feet in a foot bath full of tepid water to cool down.

Avoid using appliances that generate heat, like ovens, stoves and clothes dryers.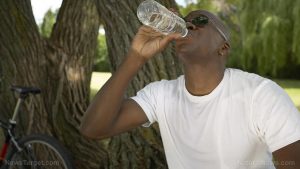 General prepping tips before a power outage
Outages can occur any time of the year. The tips below will help you prepare before the power goes out in your neighborhood.
Stock up on food and a way to prepare it without electricity
Before SHTF, store food that doesn't require cooking and prep a cooking method that doesn't require the grid to be functioning. If you also want to prep a secondary cooking method, stock up on enough fuel for two weeks.
Store foods that don't require long cooking times. In the summer, avoid using cooking methods that heat up your house and consider other options like outdoor barbecues or solar cookers.
Light
Prepare emergency lighting solutions such as:
Flashlights and extra batteries

Garden stake solar lights

Hand-crank or solar lanterns

Long-burning candles or kerosene lamps, but consider other options during a summer outage
First aid kit
You need a basic first aid kit on hand at all times, especially if SHTF.
A first aid kit should include basic items such as:
Allergy medication (if needed)

Antiseptic solution or alcohol wipes

Assorted bandages

Burn remedies

Calamine lotion

Cold medicine

First aid instruction manual

Gauze

Medical tape

Safety pins

Scissors

Thermometer

Tweezers
Entertainment
Books, toys and board games will help keep the kids and adults entertained during a long-term power outage. Keep a box of off-grid entertainment supplies in an easy-to-access location and include items for family members with different interests.
Include items and supplies like:
Activity books

Board games

Books (Fiction and non-fiction)

Cards

Crayons or coloring pencils and coloring books

Games and toys

Markers

Notebooks

Pens and pencils

Puzzles

Sharpeners

Stationery supplies

Stickers
Prep ahead so when SHTF, you have what you need to help your family stay cool and healthy even during a summer power outage.
Sources include: