---
When SHTF, do you have a way to get in touch with your loved ones? Don't wait until it's too late to invest in useful prepper gear like ham radios or walkie-talkies. (h/t to
ThePrepperJournal.com
)
Ham radio for preppers
Amateur radio, or "ham radio," refers to the use of radiofrequency spectrum for the non-commercial exchange of messages. Ham radios transmit on frequencies from 1.8 to 1300 megahertz (MHz), with gaps in between. Compared to other types of radios, ham radios offer the widest range of frequency options.
Most preppers prefer ham radio because:
It is the only option that allows you to listen and talk to local emergency services.

It has a much wider range of frequencies compared to other types of civilian radios. (Related: How to build a survival communication system for less than $50.)

It has a better range. Ham radios can use high frequency (HF) bands, which are the best bands in a major SHTF event since they can easily reach hundreds of miles.
Tips for using ham radios
If you're considering ham radios for daily use and emergency communications in a survival scenario, here are some important things to remember.
Know what you need to dial in a frequency. To keep communication lines secure, especially when SHTF, use an offset. This will allow you to talk on one frequency and listen on another. If an enemy scanning party stumbles upon your frequency, they can only listen in on one side of the conversation.

Use a tone. If your radio is looking for a tone in the transmission, it won't let you hear any message that doesn't have that exact tone. Tones are often used for hearing friends on a busy radio channel or for preventing accidental or unwanted transmissions and interference on radio repeaters.

Change your frequency and offset often to get rid of eavesdroppers.
Using cell phones when SHTF
As long as the disaster scenario doesn't involve an EMP attack and networks are still running, you can use your cell phones to communicate.
A cell phone can also be used:
To store important personal data. Save copies of important documents like your driver's license, birth certificate, insurance papers, etc.

To store sentimental photos and videos. When disaster strikes, having photos of your loved ones can help keep up your morale, especially if you've been separated from one another. Clear photos of your family members can make the search for them easier.

To store survival information like charts, ebooks, and maps.

To monitor Automatic Packet Reporting System (APRS) or similar packet radio modes via apps installed on your phone. APRS can be used to send a message in a beacon type format, and it is often used for search and rescue. Use APRS apps to monitor certain frequencies for a beacon in a survival scenario.
Thinking outside the box when SHTF
If you don't have access to ham radio or if you lose your phone, there are alternate means of communicating with your survival group. Keep an eye out for hidden notes from your family members, or something unusual like signs left on a trail you frequent.
Learn about Urban Search and Rescue markings, which are sprayed on the side of residences searched by Federal Emergency Management Agency (FEMA) responders. The markings usually include the following signs: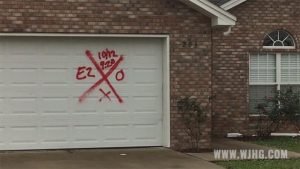 Single slash – FEMA responders have gone inside and that a building search is in progress.

X with writing in quadrants – A search has been completed.

Top quadrant – The time and date that the search team left the building.

Bottom quadrant – This states the number of survivors and bodies found, usually in that order (e.g., 0/0 for no survivors and no corpses).

Left quadrant – This includes the search team's identifier "tag," which is often a short acronym or military number.

Right quadrant – Lists present hazards (if any).

X with a box around it – This means "Do Not Enter," especially if an area is dangerous.
Before SHTF, learn how to use ham radios and earn your license so you can get in touch with your loved ones.
Sources include: